The Dark Heart
Details

Category: Blogs
Published: Friday, 15 May 2015 17:56
Written by James DeShay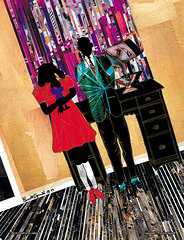 by James DeShay
There are times when one's heart
is heavy and a dense fog covers the
internal spirit. The human sight fails
to see beyond the moment and time
seems not to exist.
The pain of the moment creates
sadness and the door of joy has
been completely close. The laughs
that once filled the air have become
silent and happiness is no longer.
The priceless picture of love has
dropped in value as the faces
display vast emptiness. The departure
of the connection makes the depth of
the pain immeasurable.
Where will the strength come from to
overcome that which was so unforeseeable .
How can that which was so clear now
be filled with darkness and no longer
display the radiance that was the beckon
for so many.
-----
My first book entitled Thoughts Love And Reflections
can be purchased on www.lulu.com/spotlight/JDeShay_Love
My second book entitled Passion Desire And Contemplation
can be purchased on www.lulu.com/spotlight/JDeShay_Love
Listen to my podcast radio show entitled
Motherhood Yesterday Today And Tomorrow
http://www.blogtalkradio.com/…/thoughts-love-reflections-wi…#
_____
| | |
| --- | --- |
| | Everett Spruill - For more than 30 years Everett, a self-taught artist, has been involved in collecting and creating works of art. He currently conducts art workshops for Central Florida youth through his non-profit foundation and is former owner of The Ethnic Art Gallery, Orlando, Florida. http://everett-spruill.artistwebsites.com/ |