Thank You Aramis Ayala, WE Won
Details

Category: Justice
Published: Wednesday, 31 August 2016 15:40
Written by Attorney Camara Williams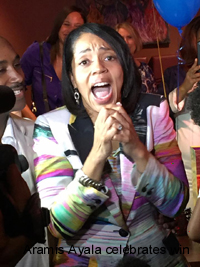 By Attorney Camara Williams, Esq.
Last night was extremely gratifying for me. My good friend Aramis Donell Ayala was elected not ONLY as the first black prosecutor in Florida history. She is the first black female prosecutor in the south. History was made last night.
But that is not even the most gratifying part. She (we) started out with literally a handful of supporters. There was no big loud thunderous movement in the beginning. It simply started out with a group of friends who saw something special in a person and encouraged her to run.
Her campaign was the epitome of grass roots. She connected her campaign to the people, and the people responded. Sure she received a LARGE financial endorsement from a wealthy benefactor. But let's keep it real, that money came in the 11th hour. loooong after Aramis had proven a worthy candidate for the people. She had to put in the work, and because of her faithfulness towards the task. God saw fit to bless her diligence, with a financial blessing (because truthfully her campaign financial war chest was trailing the incumbent almost 2-1). No one is gonna invest that type of money in you, not unless you have proven yourself a worthy candidate of such a gift. As a spiritual man I would say this was God showing that if you take 1 step towards me, I will take 2 steps toward you.
But even that doesn't explain my full gratification.
As a campaign surrogate and friend, I became privy to behind the scenes information and activities. Aramis not only faced mutiny from
people who promised to support her (inside her own camp no less, smh). But also witnessing how the other side was dismissive, disrespectful, and ultimately nasty (the final example of how they went after her husband last week). To say that her road was not easy is an understatement. Not to mention the fact that while the incumbent received endorsement after endorsement. Her supporters - especially us who were practicing attorneys- were often challenged for supporting her. I wish I could tell you the many phone calls, text messages, vent sessions (some of them late night). Aramis, Alisia Mary Adamson, Natalie Jackson and myself had with one another. This campaign became an emotional extension of all involved.
But again this doesn't explain my full gratification...
My gratification comes from the fact that we have someone who has from the beginning, been invested in the soul of this community. That person is now in the legal law enforcement big seat. The public will witness what her close supporters have known for a while. Aramis has unmatched compassion for people, the community and the issues they face. Central Florida does not have to worry, Aramis will be your champion. I don't take anything away from the work that Jeff Ashton office has done, I would be lying if I didn't acknowledge the positive work he has put forth to help facilitate justice evenly. But as I have maintained from the very beginning, this was NEVER about Jeff...this was ALWAYS about who I saw was the best fit for that position. This doesn't feel like she won, it feels like WE won!
I am so excited for Aramis and her family!!!! Congratulations again my friend you earned it. History was made.
SN: A special shoutout goes to David Ayala. That man is something special. Not only was he Aramis emotional support, he was undoubtedly the engine (and brains) behind her campaign. I am super happy for him. He definitely laid the blueprint of how a spouse should support a candidate.