What I shudda said when the white guy asked what could he do to help Black people
Details

Category: Politics
Published: Saturday, 08 June 2019 19:51
Written by Lawrence A Robinson
Not long ago, I was asked to be part of a panel to discuss, 'What will it take to earn the Black vote in 2020.' This panel discussion was organized by local Republican leaders in hopes of understanding what Black people wanted and what should be offered to gain their vote.
With the racial tensions in this country as they are, I had hoped that this was going to be a genuine discussion and the panel could introduce usable solutions. I wanted to believe that having a heart to heart conversation about race was possible.
In my opinion, that panel discussion with audience participation actually mimicked my usual conversations. We usually talk around the issue because we don't want to hurt anyone's feeling. Being real may be a little hurtful, but this conversation has to start someplace.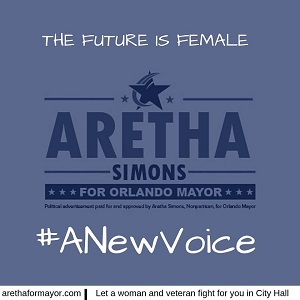 Question: What will it take to earn the Black vote?
Response: Stop coming to our churches only when you want our vote.
Response: Book bags and temporary gifts don't cut it.
Response: Make affordable houses affordable for us.
Response: Give financial support to local Black businesses instead of bringing in big box/chain stores to our community.
What I shudda said:
Question: What could Republicans and white people do to earn the Black vote?
Response: White people should go to their own church and ask why Mayor Buddy Dyer built that soccer field right in the middle of the Black people neighborhood.
Response: White people could gather a few of their white friends and protest Orlando Police Department for their treatment of Black residents.
Response: White people should ask Mayor Buddy Dyer why he put a fence up in the middle of Orlando to block Black entrepreneurs from doing business during Orlando's 2012 'NBA All Star Weekend'.
Response: White people should ask their leaders to question Mayor Buddy Dyer's reasoning for closing a Black neighborhood school and forcing our students to be bussed 2 hours to your community's school.
Response: Caring white people could ask Commissioner Sam Ings why he wanted to spend 10 million dollars to save Tinker Field that is not in his district, but won't spend a dime for a bathroom facility at Poppy Park that is in his district. Daily visitors to Poppy Park have one filthy outhouse for relief.
I think that white people already know what they could do. Asking the question only allows for them to appear concerned. Donating book bags and standing in front of us, telling us what we should do won't help the community. We want the same things you want.
So, do you really want to know what you can do to gain the Black vote in 2020? Well, now you know. Don't ask again.