The Hill Camp
Details

Category: Blogs
Published: Wednesday, 09 April 2014 12:34
Written by Traci R. Wade-Bradford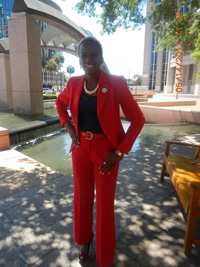 By Traci R. Wade-Bradford
As 6:00 pm approached, I quickly answered one more emailed and informed my Assistant that I was leaving the office. I had somewhere to be, there was no way I was going to miss it! As I cruised heading North on John Young Parkway, my thoughts begin shift back to the Sunday Regina first told me about her plans to run for
The City of Orlando's District 5 seat. Many have tried to surpass the infamous Daisy Lynum in the polls, but in the end they couldn't quite get the job done. With Regina, I saw something completely different. A genuine compassion for change, and fight in her eyes that would make the shyest person stock up on Vaseline and lace up!
I knew she was serious! Part of me was afraid for her, let's be honest, Daisy Lynum can cuss and pray all in one sentence! She's just not go to give her seat up! At the same time, I knew that the district was in desperate need of a leadership change. I wanted to make sure Regina understood what she was up against. Like myself, she's a lifetime resident of Orlando, so she had full understanding. I hugged
her, and told her not to stop, until she was in the seat!
I quickly parked my car under the 1-4 underpass, paid the meter and headed to Don Jefe's Tequila Parlor. When I arrived, The watch party was full of energy! It didn't take long for me to spot Regina. She had on a white and black pants suit, reading to take her place in City Hall! When she sees me, we embrace one another, and take a picture together. While she and I are speaking, I quickly get an overview of her supporters. Some I can clearly identify and others, I'm not so sure about.
Knowing that she had to make her way around the room to greet other supporters, I take my sit with a friend of mines from church and another familiar looking gentleman. Still unsure who's who in the room, I opt to just observe for a while. It didn't take long for me to discover that my friend had gained support from not the most common places. I could tell that they each play a different part to the success of her campaign. "Look at God." I say to myself.
Before I know it, someone buzz's over to provide us the link to watch the polls. Not long after, we learn that the race isn't over just yet. The polls were reporting a run off between Regina and Juan Lynum. My heart was shaken, but not for long. This news appeared to energize the Hill camp even more! Cell phones were going off, clusters of strategizing at its best was taking place! I was just a supporter, but there was this urge to take a call, take Regina some coffee, organize a march…..something! I've never seen colors of people collaborate in unity for an African American woman like this before. I was shocked, amazed, and fascinated all at once.
Following Regina's very heartfelt speech, I found myself engaged in the most interesting conversation with the mysterious looking man named Larry, who I later learned was actually Lawrence Robinson, CEO of the Community Steeple. He began to share some of unjust things that Hill camp has been up against, due to the power of a Family name. By the time we finished our conversation, it made me even more determined to do my part in getting Regina in this seat! Not long after, I say my good byes and headed home with a great deal on my mind.
The world is full of people that choose to use their power for their own selfish gain, with absolutely no consideration for others. It takes character to stand up for what is right and just! This is the sound that we're declaring over District 5! We thank God for the run off, and with him, our focus is on the WIN!!!
Keep your head up Regina......we're almost there!
---
Elect Regina Hill for City Commissioner District 5
Being appointed or elected to a position does not make you a leader. Leadership is the process of guiding others, through their observation of tangible actions by you, that shows you are effective.
Elect Regina Hill, New, Bold Leadership for District 5
Paid Political Advertising
---