A Lynum House Divided Against Itself Can Not Stand
Details

Category: Blogs
Published: Wednesday, 16 April 2014 23:05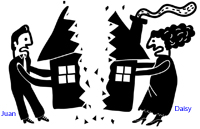 by Pan-Africanist Coalition
It seems the Lynum House is now divided. This is a hard reality of a sixteen-year legacy of failure. As Malcolm X would say the "Chickens have come home to roost."
Juan Lynum began his campaign with the slogan "Continuing a Legacy of Leadership," riding on the back on his mother - Daisy Lynum. But after a devastating election in which he only garnered 39 percent of the vote, he has shifted his campaign away from that legacy bit.
A word to Juan Lynum: On June 16, 1858, The Free-Soil Party (which later became the Republican Party) selected Abraham Lincoln as their candidate for the U.S. Senate. Lincoln delivered an address that night entitled "A house divided against itself cannot stand," A concept original to Jesus Christ - recorded in all three synoptic gospels of Matthew, Mark and Luke.
You cannot divide yourself from your mother. She is your mother, She birth you into this world. She is the
mother of whom you claim you live with. Even though you have a wife and precious daughter in a home in Tampa with your name on it, you decided to live with your mother. Thus, you cannot live with your mother in her house and eat her food and suddenly decide that she does not have a Legacy worth defending.
Note: Sisters, be careful of a man who dishes his mom.
In a big separation from his mother, Ms. Daisy, the son – Juan Lynum – has a new campaign slogan, "time for a change." And the bus driver said to the mechanic, "I must have run over something." That something was Ms. Daisy who her son threw under the bus.
Okay, let's see if Juan has a case for throwing his mother under the bus. He spent $5 for every $1 of both of his opponents and only got 37 votes more than Regina Hill. Was it the money that failed or was it the message? You got it. It was the message. Daisy Lynum's legacy is so bad that she had to withdraw from the race. So her son Juan jumped into the race at the last minute. So late in the game that he used his mom's campaign signs and used little stickers to cover up the name Daisy with his name Juan.
Note: Didn't know one campaign could buy signs for another.
So heading into the May 6 runoff, Juan Lynum has decided to divide his house. Once a favorite of Mayor Dyer (whom some say has been driving Ms. Daisy – speaking politically), Juan Lynum has even turned on him. In a post-election press release, Juan Lynum decried, "We will demand that Mayor Buddy Dyer address the needs of our community and stop the gentrification project."
Hold the presses, what a shift. Before the election, Juan Lynum praised Mayor Buddy Dyer and his $1.2 billion community non- gentrification project for the phantom jobs it is to provide. And the mechanic said to the bus driver, "No, You ran over something else too."
Would-be city commissioner Lynum exclaimed, "The bottom line is $1.2 billion could have built a free home for every registered voter in District 5."
Note: Nice try Lynum, but you don't know math - $1.2 billion dollars is only enough money to build half a house for each registered voter in District 5. Obviously, you have a thing for divided houses.
He went on blasting Mayor Dyer, "Such an investment could have changed the lives of every poor, homeless and disadvantaged voter in the city."
Then he struck his mother with these words," It's time for change which leads toward new priorities." And with those words, he divided the House of Lynum. I would love to be a fly on the wall at dinner time in the Lynum House. That is if they still dine together.
A divided house is not the only problem Juan Lynum faces. It official, a Florida Department of Law Enforcement (FDLE) spokeswoman recently said, "the agency has now opened a formal investigation into whether Juan Lynum lives with his mother."
Note: with so many fatherless children, you think a man who could – would live with his child.
When Lynum entered the race, he declared that he lives with his mother in a house she owns in the Rock Lake neighborhood. But there is the wife and daughter living in his house in Tampa.
Abraham Lincoln in his speech said these words, "Wise councils may accelerate or mistakes delay it, But A House Divided Against Itself Can Not Stand.
About the Pan-Africanist Coalition:
The Pan-Africanist Coalition is an Action Oriented Think-Tank, dedicated to addressing the myriad of issues, institutions and individuals who present obstacles to inclusion and demonstrate an aversion to the change needed in our community. The group is comprised of enlightened Physicians, Administrators, Law Enforcement Professionals, Clergy, Lay-Persons, Lawyers, Business Owners, Politicos and others enlightened individuals united for a common cause. All Papers are endorsed by the Pan-Africanist Coalition.
---
Elect Regina Hill for City Commissioner District 5
Being appointed or elected to a position does not make you a leader. Leadership is the process of guiding others, through their observation of tangible actions by you, that shows you are effective.
Elect Regina Hill, New, Bold Leadership for District 5
Paid Political Advertising
---