John Mina: Embraced by racist, irritated his Republican buddies, shunned by Democrats, disgraced by the FOB, finds himself looking like a zebra instead of a Donkey
Details

Category: Justice
Published: Tuesday, 04 August 2020 01:13
Written by Lawrence A Robinson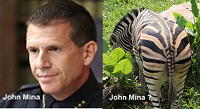 Candidates in the Orange County Sheriff's race is fighting a zebra. Here are some of my observations.
John Mina
John Mina had been a life long Republican when he was appointed to be Orlando's Chief of Police. When he decided that he wanted to be Orange County Sheriff, he thought that becoming a Democrat would be a better cover. So he burned his Republican team colors and bought a loosely fitting Democrat jersey.
The Fraternal Order of Police knew that Mina would support them because he is one of them. That organization gave Mina the 'thumbs up' endorsement right from the start.
Mina is wearing different colors an therefore need to support his new team in some way. The FOP didn't like even his small adjustments, so they rescinded their endorsement and then threw Mina under the bus.
John Mina couldn't do much for his new team even though his plan was to do nothing. On the outside, he wore the Democrat colors, but, underneath, he is all white.
John Mina has worn so many political colors trying to look good to every group, that now he looks like a clown in a zebra suit, that will promise anything to win.
Mina has no strategy for the Black community except to lip service, harass and arrest our people. He offers nothing more than a continuation of the same lies that saved his job as Orlando Police Chief. John Mina has never cared about the community. He only cares about his career positions.
His color coded shenanigans show exactly what John Mina is, an opportunist. An opportunist who has failed miserably on both sides of the color line. John Mina should just quit the Sheriff's race before his picture appears in Wikipedia as a depiction of a Zebra.
Joe Lopez
I like Joe Lopez. He supported me by buying my book two years ago. I wanted to support his campaign, but I can't. I asked him four specific questions relating to
his plans for the Black community. I haven't gotten a congruent answer yet.
Even after more than two years, Joe Lopez has no long term plan that is sustainable and effective. His stump speech is the standard 'goobly goo' campaign stuff
His strategy for policing the community is a patch work of old ideas that will increase the rate of failures two fold. He is like John Mina on steroids.
Just like John Mina, Joe Lopez was a life long Republican until he saw the opportunity to run for Sheriff as a Democrat. Just like Mina, he waffles between two ideologies. Sad.
Joe Lopez should pick the side of the people and be real. Going to meeting after meeting and protest after protest, marching and waving banners, all without offering a solution or a strategy, won't get Lopez any votes.
Joe Lopez should quit the Sheriff's race, rejoin the Republican party and be authentic.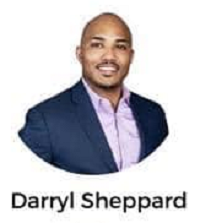 Darryl Sheppard
I supported Darryl Sheppard for Orange County Sheriff two years ago. Back then, we met several times and talked about strategies for the community. He even liked some of my ideas.
Darryl Sheppard articulates his ideas, have great strategies and is qualified. The problem with Darryl is a severe lack of support. He was shunned by the establishment and even by the Democratic Party. He has no support inside the system and has no outside support either.
I don't see a path for Darryl to win. Too bad. I think Darryl should remain in the race because he is a fair and just candidate and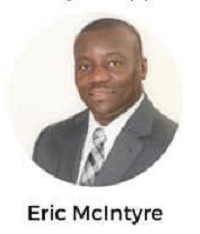 will continue to put pressure on other candidates.
Eric McIntyre
I met Eric McIntyre at an event at the Three In One Restaurant in Ocoee several months ago. He is a great guy and very smart. He's got ideas but they are not fully developed yet. He is not widely known and he doesn't have enough support to pull off a county wide political campaign. I don't see a path for him to win. He should stay in the race and consider this a learning experience and get ready for his next campaign.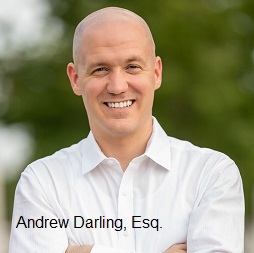 Andrew Darling
A while back, I attended a political forum held at the Callahan Center in Parramore where Andrew Darling and Joe Lopez were the guess panelist. I asked a very specific, 'yes or no' policy related question. A 'no' answer in this racially charged environment would cause issues for their campaigns. Of course, both answered 'yes.'
The question that I asked was framed to deal with a justice system that is designed to protect and reward, misbehaving police.
After both gave their 'yes' response to the question, they gave what they each thought was a better idea to solve the issue.
Joe Lopez's solution was to work towards changing the laws, but for now the status quo remains in tack.
Andrew Darling's solution was to talk to other elective officials then allow the final decision to be made by a Public Defender/State Attorney in another county.
Andrew Darling's solutions guarantees that the Sheriff would not control the final decision and police will not get away with policing themselves.
I thought Andrew Darling policy was a bold step towards fixing the problem of officers getting away with misbehaving, especially when the FOP steps in.
Andrew Darling has recently gone several steps further and partnered with Monique Worrell who is campaigning to become the next State Attorney. They have parallel strategies in how the justice system could fight police who overreach their authority.
Andrew Darling is the best choice for Orange County Sheriff by any measure. He is the only one with a sustainable plan designed to solve our specific community problems.
I fully endorse Andrew Darling for Orange County Sheriff.
And ya know what, we don't need a zebra running the sheriff's department.