My Brother Was Not Jesus Christ, But He Could Walk On Water
Details

Category: Lifestyle/People
Published: Thursday, 17 February 2022 18:40
Written by Lawrence A Robinson
By Lawrence A Robinson
My second oldest brother's name is Walter L. Robinson, but we called him Baybro. Baybro is short for baby brother. After he graduated from FAMU in 1968, he enlisted in the army and soon was sent to the war zone in Viet Nam.
He survived two tours in Viet Nam, re-enlisted, was promoted and sent to Germany. His wife, Mary, joined him as an In Service Employee for the Army.
Mary was a teacher and taught the children of overseas military personel. Baybro was active in different military capacities for a total of 20 years and Mary stayed active in the In Service capacity all over the world for almost another 20 years.
While in Germany, he worked with a unit that was tasked with developing 'water shoes.' The Army wanted to give soldiers the ability to 'walk' across shallow rivers and streams while carrying 65 to 85 pounds of equipment without getting soaked.
My brother became very interested in the idea of a better water shoe. After the Germany assignment, he pursued this passion on his own.
That year, he wrote me a letter and asked me to go to the patent office and research 'water shoes.' In the envelope was American Express Travelers Cheques enough for round trip plane ticket from our parents home in Tampa, to the Patent office in Virginia. He wanted the research done as soon as possible. It took the letter over a week to reach me so I was already about ten days behind. This was in the 1970s so there was no e-mail or Paypal or cash apps and patent office research was usually done in person.
He studied the information that I sent him. Over the rest of his life, he would spend hours every day, in libraries all around the world researching water shoes. He even wrote two books on the subject. The title of his first book is, 'The Water Shoe, A Serious Work.' His improvments to the water shoe were so innovative that he would be granted 17 patents.
He thought that he could help make it into a sport. His plan was to manufacture and sell the shoes to water sport enthusiast like skiers, scuba divers, snorkelers and others. He told me that once he gained celebrity status he would try to get the Olympic Committee to accept 'walking on water' into the Summer Games.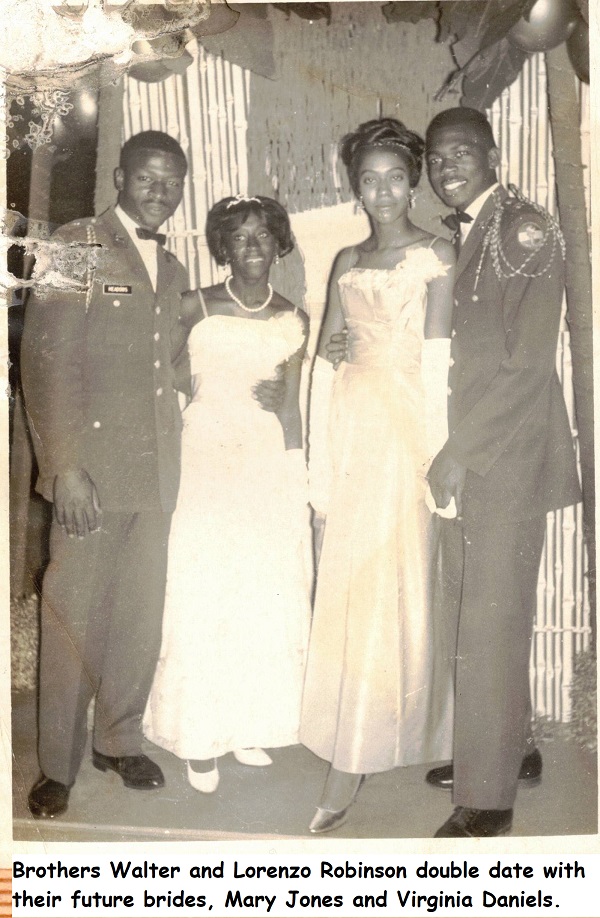 Improving the shoes was a continuous task that would last over 50 years. After he developed and created the mold, he and his team decided to walk the English Channel from England to France. The 20.5 mile feat gained him some notoriety. The television shows, 'What's My Line' and 'To Tell the Truth', had him on as a guest.
He knew that 'The Tonight Show Starring Johnny Carson' was the show that could almost instantly give anyone celebrity status and star power he was seeking. The Tonight Show, Starring Johnny Carson is where he wanted to be. He sent the producers of the show a letter requesting to be a guest. They turned him down.
Mars, Inc., the company that owns Mars bars, Milky Way bars, M&M's, Skittles, Snickers, offered my brother $500,000 dollars to use his water shoes in a candy commercial. The focus would be on the candy with people walking on water in the background. He turned them down because the focus was on the candy and not on his water shoes.
He and his wife, Mary lived in Panama for a few years. He was still working and improving his water shoes and volunteered at a community center. He decided that walking the Panama Canal next to the large ships would be a great feat, almost as great as walking the English Channel. Neither had been done before him. After many months of negotiating, the government allowed him to walk the Panama Canal. He is the only person to ever walk the Panama Canal. He is featured in the Panama Canal Museum and will forever be remembered for working with the children and for walking the canal.
VIDEOS from Associated Press and Panama Canal Museum Collection Article
Walter Robinson walking on water in the Panama Canal - Panama Canal Museum Collection
http://www.aparchive.com/metadata/youtube/cd952eee6ed170243e40e2a8c1e78436
4 short videos from Associated Press dated Aug. 26, 1978
Associated Press dated Aug. 26, 1978
After walking the Panama Canal, surely 'The Tonight Show Starring Johnny Carson' will invite him, he thought. He sent them a letter explaining what he had done. Again, the producers said they were not interested in someone who claims to walk on water.
Bay-bro visited home in Tampa for a few weeks. The local news outlets heard that he was in town and asked him to walk on water for them. We all went down to the Hillsborough River where he walked out on the water then back onto shore where he was interviewed. It would take days for the story to get around the world, remember this was in the seventies and there was no instant news.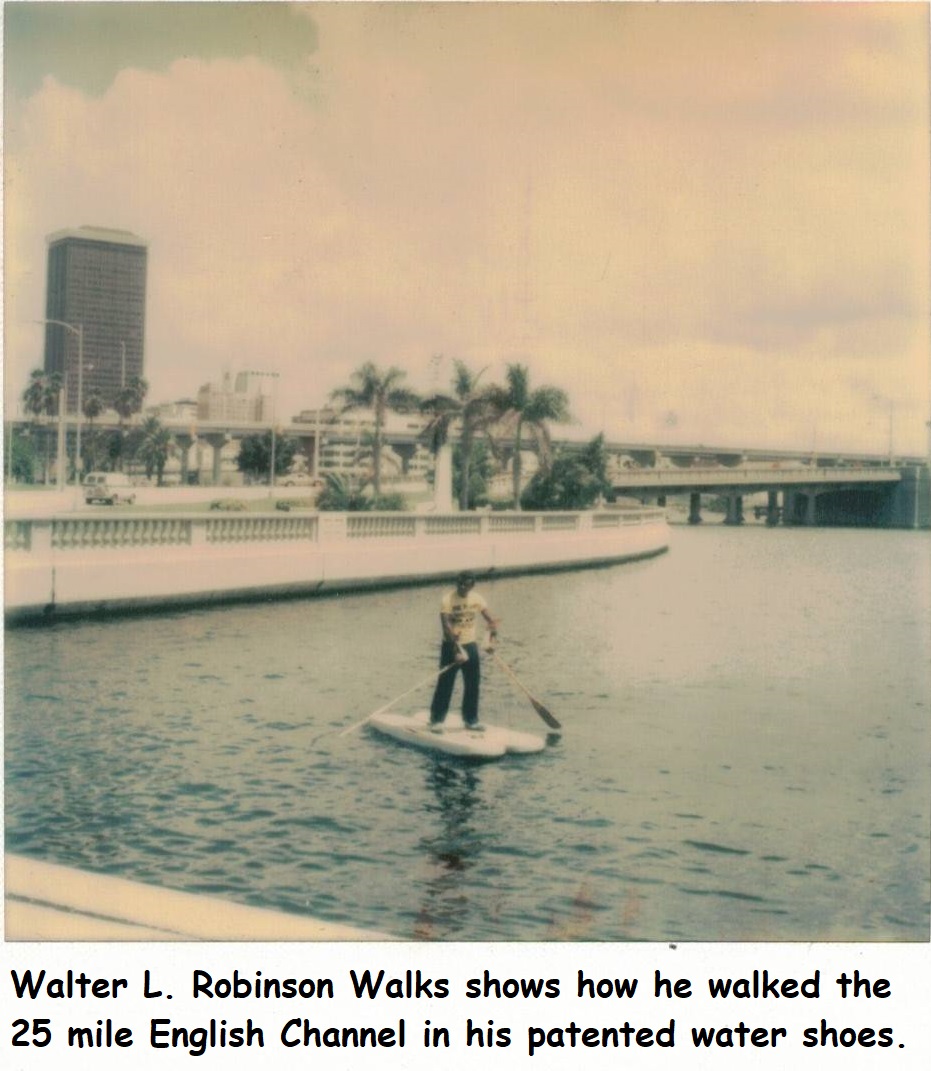 Guinness Book of World Records researchers notified my brother; they wanted to monitor him walking the English Channel. His team went to England and walked the English Channel for a second time, this time he under the watchful eyes of Guinness. The Guinness Book of World Records authenticated the feat and listed him in their book.
Surly, The Tonight Show Starring Johnny Carson would invite him as a guest now. He sent the show's producers an American Express Travelers Cheques worth thousands of dollars. He was declined again and his money returned to him.
A year later, he was back in Tampa and again the local networks wanted to feature him. The plan was for a late morning water walk so that it could be featured on the evening news broadcast. The night before the walk, my family was sitting in our parents living room talking about Baybro's world travels and his notable accomplishments.
Moving away from the conversation about water shoes, Baybro asked me if my house plant 'side hustle' had gained any momentum?
I graduated with a bachelor's degree in biology and had worked several years in the horticultural industry. I had recently started my own side hustle business growing plants. My dad gave me his truck and let me use one of his store fronts to run my business. My mom allowed me to use a small parcel of land that were close to the storefront to stage and showcase my plants.
My brother Lorenzo and his wife Virginia, owned five acres of land in Lakeland that is less than 40 miles away from Tampa. They allowed be to build greenhouses on that property where I grew the plants before moving them to the staging area in Tampa.
My oldest brother, George, was student recruiter for the University of South Florida. George introduced me to one of his recruits that majored in business. This young lady setup home parties where we sold plants to guest that was invited by the homeowner. George also introduced me to a recruit who was a painter. This guy, painted my store front and with expert attention to detail, and he hand painted the name of my business in big, bold letters.
I told my family that if I had a little money for radio advertising, posters and flyers, I should be good to go. (This was in the 70's, there was no Internet or Facebook, or Youtube to advertis on like we enjoy today.)
We sat there talking for awhile when the home phone rang. It was a call from the TV station wanting to verify the place and time for the water walk tomorrow morning. The caller also said that several international news organizations would be represented as well.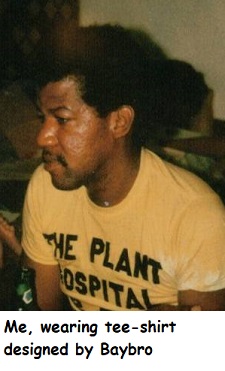 Baybro decided that he had to run an errand and borrowed dad's car and ran out the door.
In the morning the family accompanied Baybro down to the Hillsborough River. The location was not far from Howard W. Blake High School where all six siblings graduated.
The news media were all down by the riverside. The family stood at the water's edge while Baybro talked to the media.
After a few minutes of conversation, he walked out to the water. This was his moment. Everything he had done to grow his water shoe's credibility, came down to this. He was guest on The TV shows, What's My Line and To Tell The Truth, he had turned down $500,000 from Mars Inc., he had walked the English Channel twice, he had walked the Panama Canal, the only person ever allowed to do so. He had been authenticated by Guinness World Book and listed in the World Records.
In a few days, the whole world will know the name Walter Robinson Water Shoes. After this water walk, The Tonight Show Starring Johnny Carson would no doubt beg him to be on the show. His life work seemed to all come down to this walk, and he knew it.
Baybro walked out to the edge of the Hillsborough River and into the water. He put his water shoes on and had his paddles ready. When the cameras started rolling, he called me over to his side. He took off his wind breaker jacket and handed it me to hold for him.
Under the jacket was a bright yellow tee shirt and spelled out in bold black letters was the name of my horticulture company. My jaw dropped. I couldn't believe it. With the cameras of the world turned on him, he chooses to advertise my company. He gave it all up to support me.
In a few days the world will see my brother Walter L. Robinson walk on water. But if those cameras had panned up the shore just a little, they would have seen me walking on air. I will miss him forever.
My brother, Baybro, Walter L. Robinson born, October 16,1946 and died January 19, 2022 and was buried in a Honorable Military Funeral.