The Man Beside Aramis Ayala
Details

Category: Lifestyle/People
Published: Sunday, 04 September 2016 19:31
Written by Attorney Alisia Mary Adamson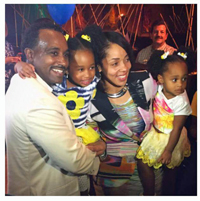 by Alisia Mary Adamson
While many argue that personal lives (especially of family members) shouldn't matter when it comes to politics, I see why they do...because situations in our lives shape us into who we are.
David Ayala's story is one of reformation, restoration and most importantly, rehabilitation.
He had a rough childhood, made bad decisions, got into trouble several years ago and was punished. He paid the price of his bad decisions by losing his freedom. Instead of continuing down a path of destruction, he turned his life around.
He went to college, got a job, got married and has 2 amazing daughters. David has worked at an international telecommunications company as a Business Account Manager for the last two years and is also a certified personal trainer.
His beautiful (inside and out) wife, also has a story of rehabilitation. Her story is much different than his. Aramis Donell Ayala is a cancer survivor and doesn't take life for granted.
She found out she had lymphoma while in law school. As a result she had to undergo emergency surgery, chemotherapy treatments and even a hip replacement because she developed avascular necrosis which deteriorated her hip bones. She had to learn to walk again through physical therapy.
Although postponed, when she regained enough strength, she graduated from law school and passed the bar exam. She started her legal career as a prosecutor, worked on the defense side as an assistant public defender for a while and went back to work as an assistant state attorney.
Aramis says "My experience with cancer solidified my commitment to use my education and experience to serve people. I realized service was not only a gift, it was my responsibility. I was given a second chance at life vowed to spend that opportunity creating a legacy of truth, integrity, and justice."
Even though David paid his "debt to society" and left his past in the past, both he and Aramis knew that running for State Attorney would likely expose him to judgment and ridicule (even though it's his wife running, not him).
However, he fully supported her decision (if you've met him, you know he's her biggest cheerleader) He knows that his wife is a servant leader who wants to help make her community a better, safer and more just place.