Ernest Page - Political Leader and Orlando's First Black Mayor ONYX Publisher's Award
Details

Category: Lifestyle/People
Published: Friday, 04 October 2019 15:06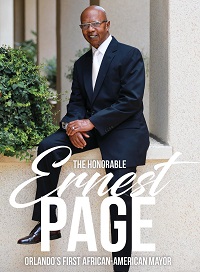 "The Virtues of Fortitude and Temperance are the foundation for a happy and successful life."
Politician, civic leader, entrepreneur, Mayor Ernest Page has been one of Orlando's most influential leaders over the past three decades. Born in Orlando to the Rev. Edoras Page, and AME minister, and Arizona Page, he graduated from Jones High School. Page earned his bachelor's degree at Morehouse College and completed post graduate studies at Atlanta University in mathematics and Nova University in business administration. Since then, he has been actively involved in advocating for achievement in education, civil and human rights, and social and economic justice.
Page provided leadership that led to serious structural changes in the social political and economic life of the African-American community. His leadership led to the implementation of the city's Anti-Discrimination Ordinance; the Human Relations department; the Minority Business Development Ordinance: Single Member Districts; and the city's first Affirmative Action program. In addition, his efforts led to the development of Southwest United Communities, Inc. (SWUC), which developed a $2 million 11,000-squar-foot office complex, Page Commerce Center, and also developed Magnolia Point, a $13 million senior citizen complex on Mercy Drive. As Mayor, Page restructured city government to ensure the efficient and effective implementation of the Performing Arts Center, the Magic Arena and Orlando Citrus Bowl.
Page organized seven homeowners' associations and developed the following social services programs: SWUC's Youth Uplift, which provided counseling to young women on social skills and civic responsibility; Annual Christmas Hope, which provided 600 families in need food items and toys during the holidays; Annual Thanksgiving Senior Hope, which provided 550 families food boxes and a gospel concert; and Annual Easter Hope, which provided 450 families Easter baskets, toys and an Easter egg hunt. Page is involved with numerous community and civic affiliations.
Family is everything to Page. His father, mother, and sister, Barbara, were the cornerstones of his life, providing spiritual guidance and temperance to always stay in the eyes of the storm. He is married to Beverly Page, is the father of Dr. Ernest Page, II, Tammy Wise and Siohvan Page, and has 10 beautiful grandchildren.