My Lover Killed Me
Details

Category: Lifestyle/People
Published: Monday, 07 June 2021 16:19
Written by Regina Garvin-Buckley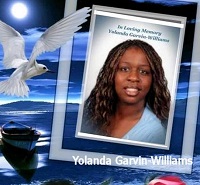 by Regina Garvin-Buckley
12 years ago, June 8, 2009. I earned my wings. My name is Yolanda Garvin and this is my story told by my sister Regina Buckley.
That dreadful Monday morning in the parking lot of Parrish Medical Center, my place of employment. I was shot 7 times. All the shots were my upper body. His intent was to kill me and he did. That moment, my life ended and the lives of so many others were turned upside down.
I was mentally, emotionally and sexually abused. He degraded me, he talked about me being overweight, and he stripped me of all of my power. I began to question my self-worth, self-confidence, and my true purpose in life.
I told no one in the beginning. I was too embarrassed and ashamed to share what I was going through. He isolated me from my support system, those who loved and cared for me dearly. Lines of communication with family and friends were limited. He monitored my every move.
Eventually I built up enough courage and strength to tell my stepmom She said, "I believe you. You deserve better. What can I do to help?"
For years I stayed because I was afraid of not being able to take care of my 4 kids on my own.
April 19, 2009 I told my family. I am going to move and I was for real this time, of course they joked about it because I had said it many many times before.
April 27, 2009 I got the keys to my new apartment, I called my sister and told her I did it...I am moving into my own place. "He can have the house and everything in it I dont want it. My sister said you need to file a restraining order. This was her response because he'd threatened if I leave he would kill me for years.
I can tell how happy my family was, they helped in every way they could.
I left him while he was out of town with his girlfriend, my kids and I packed our personal belongings and we left. I wrote him a note and left it on the table.
I filed the restraining order and it was denied because there was no documented abuse.
My abuser returned home to the letter, he called for a couple days trying to convince me to return to him. He swore that he would seek counselling, and anger management. He said all the right things to get me back in his possession. This time I was done.
And then the threats started:
It was like he was possessed. He said to me, "I am going to kill you, I'm going to put a bullet in your forehead ". I saw myself dying at his hands, I called my sister frantically and she said all the right things to calm me down. "She said he is full of threats, he is not going to kill you he love his kids. He maybe crazy but he is not that crazy.
He called my job, he sent flowers, he invited me to dinner, he did it all.
June 6, 2009, I attended my last family gathering. It was my sister and nephew birthday party. I helped my sister, cook and decorate for her son's 6th birthday. We had such a great time. I convinced my sister that now that we celebrated her son's birthday we needed to celebrate her birthday and after hours of trying to convince her she said yes. (She was not the club type of girl) She finally said yes when I told her your not going to be here for your birthday on Tuesday for us to celebrate.
I said that because she was leaving to take her son to Disney world on Sunday June 7th and was going to be gone for a week. (Not knowing I was going to be the one gone for her birthday)
We went out and we had so much fun, we laughed so much that night.
Sunday June 7th the threats were worse, he called my daughters phone all day. (He called my daughters phone because he came by the house and took my phone earlier) he would call, hang up and call again. His threat that day was "you need to put a casket in that apartment" This continued constantly until 6:30am Monday morning. (Where he was waiting for 2 hours). The calls ended when I drove into work and parked my car. I proceeded to gather my things out of the car to work a 12 hour shift. I locked my car and started to walk when a silver car that I recognized pulled up, it was him in his aunt's car and he had a gun. I tried to run but I was shot, he ran after me until I hit the ground as blood poured from the gunshot in my head. He made good on his promise.
I died that day leaving behind my four children. Laquasia, Tray, Cheyanne, and Jordan.
My co workers were shocked to learn that I'd been abused for 12 years and they knew nothing or saw any signs. I hid it from them so well.
There is now a women's center in Titusville dedicated to my memory to help women like me to leave their abuser with a plan. If you or someone you know need help reach out to them they will help you.
They are located at 400 Julia St. Titusville Fl. Phone number is 321-607-6811.
The domestic violence hotline (321) 607-6809
If you would like to donate to the cause the website is https://womenscenter.net/donate
*For those of you that would like to share this story please feel free. You do not need to inbox me for permission, I would love for you to share. We could not save my sister, this story may save someone else.